by Stennevad
Superflex Surf
Double-dipped latex glove for the driest and most comfortable fit in the Danish winter.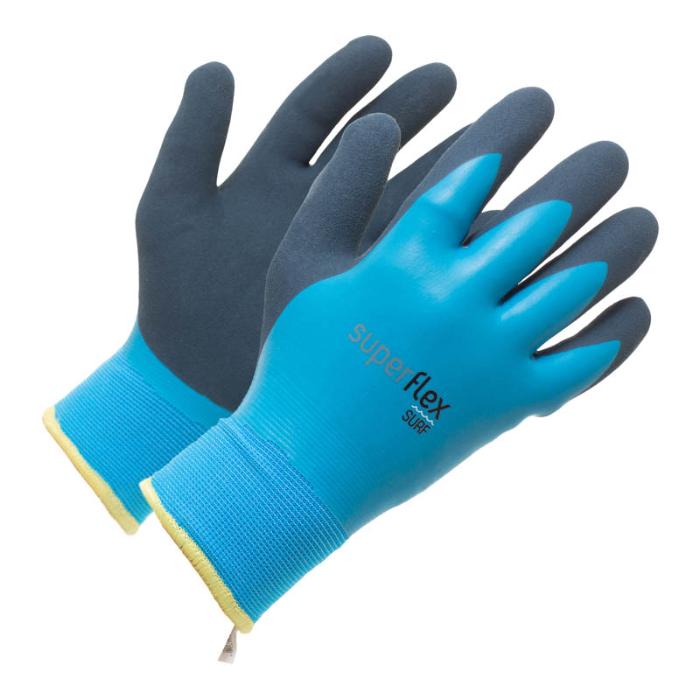 Add to order
Name
Number
Supplier Product Number
Stock status
Price
Coli
Technical specifications
Glove
| | |
| --- | --- |
| Glove Dipping | Dobbelt Latex |
Protective Equipment
General
| | |
| --- | --- |
| Color | Blue |
| Standard | EN 388, EN 420 |
| Material | Latex |
| Product type | Mounting |
| Test result | EN388:2016-2242X |
Description
Superflex Surf
The wait is over. Now you have the opportunity to get yourself an experience while actually working outside. Superflex Surf is warm, flexible and dry hands assembled in one and the same new winter mounting glove. Here you have a knit glove dipped in latex and then dipped in a latex foam to add your fingers and palm a sturdy and firmly holdable grip to your now waterproof work glove. Here the comfort and fit pushed even higher up on the ladder for quality work safety.
Sizes for all hands as long as the user remembers that the glove is lined. It must be slightly tighter than a standard mounting glove. You usually get what you pay. Even the price of Surf is higher, but you get an almost perfect working glove for the whimsical Danish autumn and winter.
Sizes 9-12, so most professionals can achieve the full potential of the glove for an unrivaled fit and flexibility. Latex is rye rubber material that makes it a little extra flexibility. We know that in Stennevad. With this blue genius of a winter glove, your working day outdoors can only be more comfortable. Finish wet and cold fingers. Lined and waterproof perfection of a work glove.
Application:
Construction
Agriculture
Engine Work
The wind industry
There are unbelievably many industries that benefit from Superflex Surf. Its construction is sublime. Please be aware, however, that if you and colleagues work with oil duties. Natural rubber like latex is difficult with oil in general. In addition, Surf is your faithful companion in the cold months. It defies November and December rain and wind. Then, January and February overcome snow and frost. Our customers are already excited about the glove. Then call Customer Service or one of our consultants if you want to shop or hear more about Superflex Surf.
Or you just buy it right away right here.
12 pairs/bag 72 pairs/carton